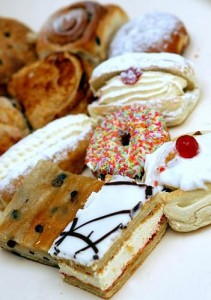 Come early morning our bakers depart to allow room for our experienced confectioners to produce a extensive range of confectionery to satisfy anybody's taste buds.
Our sweet products include – Chelsea and Belgium Buns; Doughnuts; Eccles and Rock Cakes; Danish Pastries; Plain, Fruit and Cherry Scones; Flapjacks; Muffins; Jam Tarts; Fruit Slices and the Gloucestershire favourite Lardy Cake. There are lots of other delicious items we produce – far to many to list here.
Fresh Cream cakes are produced very early every morning to ensure ultimate freshness on delivery several hours later.
We also produce a selection of savoury products including Sausage Rolls and Pasties.
Maybe you want a sweet treat not mentioned above – why not contact our office team who will be happy to discuss your requirements.